If you need an App for mobile devices for your website or business, you must be imagining that the investment is quite high, you are wrong if you think that way. After the explosion of smartphones, you can now have your App working perfectly, and even better, spending much less than you imagined. The internet is filled with the best websites for creating apps.
Its creation can be done in a practical and fast way, and you don't even need to know anything about programming the complicated codes, on many platforms to create Apps, you just have to drag and drop the elements you want and publish them in the stores.
This way you will have much more advantages, not to mention that you will be able to offer your customers an excellent experience on mobile devices, increase engagement, and increase your profit. So stay with us until the end and find out which are the best sites to create apps for your business.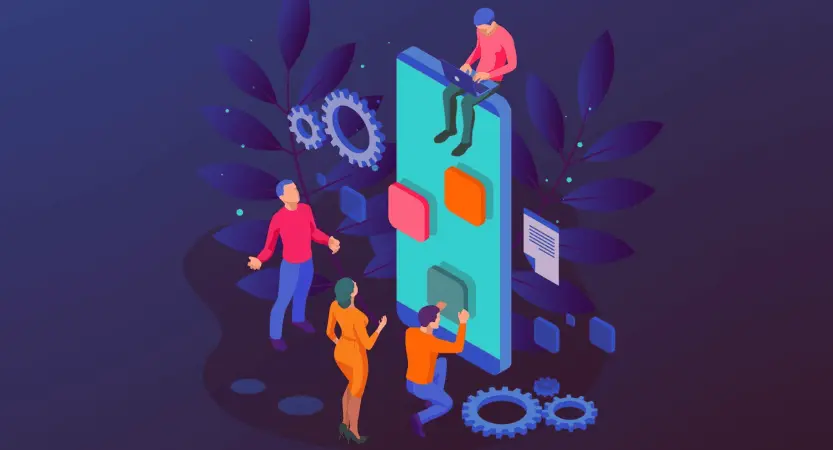 What is an app?
A mobile application is a software program that nowadays is present in all mobile devices around the world, they use iOS or Android technology, and are also present in smart devices such as smart TVs.
The vast majority of Apps are free, but there are apps that are paid for, and they have the ability to perform various functions, such as: managing media such as photos and videos, sending and receiving messages from anywhere in the world, translate languages and much more.
Applications simply fell into the general taste of the population, as they are intended to facilitate people's lives in many ways, they have become really indispensable. Many of them are already installed on your device straight from the factory, while others you can easily get them by downloading them from the Play Store or the Apple Store.
Difference between Web App and App:
In fact, the nomenclature of the two is quite similar, which is even understandable if you are confused, but know right away that both are different things. Web App applications do not need to be installed on your computer in order to be used.
The icons may even confuse you a little due to their appearance, which are very similar, but understand that the Web App is accessed directly from the internet browser through a mobile device. But we cannot fail to mention that it has far fewer features and tools than the mobile apps.
But why create an app?
Simply because a mobile App has the ability to perform operations much faster than a website, as they store your data locally, the opposite happens with the website, which needs to receive information from the database of the server where it is allocated. Thus, both the startup and navigation of mobile applications become much faster.
Benefits of having a mobile application for your business:
One of the main reasons for investing in a mobile App for your company or business is mainly the ease of being able to offer services or products to your customers, but there are also other advantages, such as:
Innovate: If your competitor doesn't have an application and you do, then you'll already be ahead of him;
Direct sales channel: A good, well-made App works perfectly well as a direct sales channel;
Relationship with your customers: Through mobile applications you will be able to send notifications to its users, which will help to further improve the relationship;
Deliver value: Nothing better than a quality application to deliver value to your customers;
Information about the public: In the same way that you get important data and information about the visitors of a website, with the application it is the same thing, know everything about your public through reports.
Best websites to build apps:
Without further ado, let's go to the list containing the best websites and platforms for creating apps:
Application Factory:
The website Application Factory will allow you to easily create Android apps using a simple drag and drop editor, the platform also offers ready-to-use templates and many other features.
AppMachine:
When using the application creation platform App Machine, you will be able to develop Android Apps by importing data and all the information from your website. And all this can be done in just a few clicks quickly, then just publish it.
Easy Easy Apps:
As Easy Easy Apps you'll create incredible Apps without having to write even a line of programming code, not to mention the wide variety of functions they make available to their users.
BuildFire:
The website buildfire It's a very simple system to use, all because of its ready-to-use themes, which will make creating your application a lot easier. Then just customize it to your liking.
GoodBarber:
O GoodBarber is an excellent builder of native applications, that is, the Apps perform tasks with or without a network, dispensing with a connection. Here you will have to go through 7 simple steps to create and submit your application so that Google Play can publish it. With it you can make iOS, PWA and Android applications.
AppInstitute:
A AppInstitute one of its main objectives is to revolutionize the mobile Apps scenario through its Software as a Service (SaaS) model.
Where it allows both individuals and companies to create their own application without having to know how to program. Here it can be done for free, until it is published in the Google Play or Apple Store.
ShoutEm:
the app builder Shout Em provides its users with a very complete and simple content management system so that anyone can create an application. They also offer their users a variety of engagement tools as well as a number of different monetization options.
Thunkable:
You will love the website Thunkable, it is very simple and practical, allowing anyone to create an application from scratch. The site offers its users an intuitive interface for creating the app, not to mention the drag and drop tool that will simplify your work.
AppYet:
This is a great option for anyone interested in creating a version of their website in an application for the Android operating system, the AppYet no programming knowledge is required, and with a few clicks your App will be ready to be published. We cannot fail to mention that you can also monetize your app with AdMob and earn even more.
mobincube:
Using the mobincube you can create applications for both iOS and Android operating systems without having to spend a penny, the platform is very intuitive and simple to use, it offers ready-made templates that are divided into categories, such as Apps for companies, games, among many others others.
WebRobot Apps:
The tool WebRobot Apps it's great, and with it you'll be able to create amazing Apps using the pre-made theme templates made available by them, just make a short registration and get started. Once finished, just download it to your PC and then publish them in the online app stores.
Kodular:
O Kodular is 100% free and also does not require any knowledge of codes or programming languages, just use the drag and drop block tool and insert the elements you need.
GameSalad:
If you are thinking of creating a game application, Game Salad offers everything you need, its creation interface is easy to use, very intuitive, and also requires advanced knowledge. Once created, just post it on Apple or Google stores.
Andromo:
As the developers of andromous claim, the platform allows you to create a fully professional App in just 3 simple steps, but in practice even that takes a little more time. It also dispenses technical knowledge because its creation tools are extremely simple.
Appy Pie:
A happy pie is located in India, its software allows you to create applications and also make versions of your websites and web pages fully compatible with any mobile device. All you have to do is choose the layout you want, configure the resources you need in just a few clicks, and publish them in stores.
Swing2App:
A Swing2App it is a cloud platform specially made for the creation and development of Apps, on this platform the user can see the entire User Interface (UI). Not to mention that it is possible to see in real time through a virtual machine all its operation. It uses iOS and Android operating systems.
Bizness Apps:
Differing a little from the other platforms and sites already mentioned here, Bizness Apps it is already a more advanced platform, generally used by advertising agencies in general. The platform has many resources available to its users, including integrations, E-commerce tools and more.
Appery:
The software platform for creating and developing applications Appery manages to make native Apps for iOS, Android and also Windows Phone, not to mention web apps that are highly responsive and hybrid Apps (which work on all types of devices). It also offers the drag and drop tool for those who don't have any knowledge.
Verivo:
O AppStudio Verivo to become even stronger and manage to provide even more convenience and resources to its users, it joined another great mobile application creation company, Appery as we mentioned earlier. The user interface and UI configuration tools are fantastic.
Appsmakerstore:
the platform appsmakerstore it is a little different from the others, here things work like "do it yourself your way", it offers several ready-made models for iOS and Android Apps. It offers integration with various payment methods and also offers monetization features.
MobileRoadie:
This application site is practically the most expensive of all mentioned so far, the company MobileRoadie is headquartered in various places such as Norway, the United States and the United Kingdom. Its main clients are large companies such as Universal, Disney and TED. It practically provides everything needed to create a perfect App, but its price ends up scaring users who want to use the platform a little.
Swiftic:
A Swiftic is an application maker company, usually used by small and medium-sized companies to increase their brand engagement. They provide ready-made models with the UX (User Experience) already tested.
Snapii:
One of the main objectives of the website Snapii is to create applications for tablets, usually applications aimed at businesses in various niches, and its platform offers its customers more than 200 different models ready to be used. All this without complicated codes.
Yapp:
O yapp allows you to create and publish an application in a very simplified way, if you need an App for conventions, business meetings for companies, events of different types, then this platform is for you. It also dispenses advanced knowledge, it is very intuitive.
appsmoment:
The software platform for developing appsmoment has more than 10 years of experience, and is excellent for anyone looking for a platform to develop game applications, it offers ready-made templates that are extremely visually pleasing.
Codemagic:
A codemagic is one of the most advanced platforms out there, widely used by large teams that often work on several types of projects at the same time, where they need to be optimized. It already comes with several automated configurations for Cordova, iOS, Android, React Native and Ionic projects.
Conclusion:
As you just read, the best sites for creating apps are in this relationship, in the article we also mentioned what an App is, why you, your business and company need one, and we also talked about the benefits that a well-made app can bring you . Now you have no more excuses not to do yours.
And just to quickly recap, this is the list of the best platforms and websites for creating apps from scratch in a simplified way:
Application Factory;
AppMachine;
Easy Easy Apps;
BuildFire;
GoodBarber;
AppInstitute;
ShoutEm;
Thunkable;
AppYet;
Mobincube;
WebRobot Apps;
Kodular;
GameSalad;
Andromo;
Appy Pie;
Swing2App;
Bizness Apps;
Appery;
Verivo;
Appsmakerstore;
MobileRoadie;
Swiftic;
Snapii;
Yapp;
appsmoment;
Codemagic.
That's it, we're done here, and we hope that our content has been useful in some way, success?