So you have no idea how to make a website responsive to all types of devices, especially mobile ones, or you want to make your website that you already have well optimized for all screen sizes. Know that you are in the right article.
Nowadays, having a page compatible with all types of devices and screen sizes, especially mobile devices, is much more than an obligation for a website owner, blog, virtual store, in short.
Its responsiveness will increase traffic (visits) quite significantly, and that way you will be much more likely to outperform your competitors. So, let's find out what a responsive website is, why you need one, how important it is and how to make yours responsive.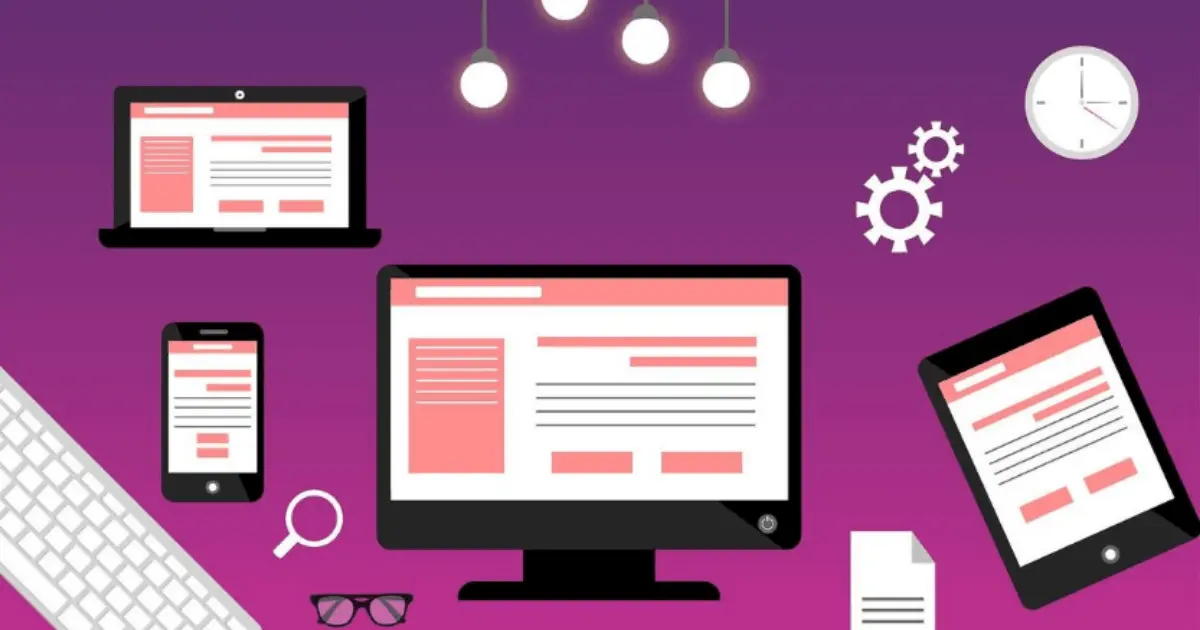 What is a responsive website?
It is nothing more than a website that has the ability to adapt to any screen size regardless of its resolution or size without any kind of distortion. It, in turn, has to adapt perfectly to any device, whether they are mobile devices or not.
A responsive layout can easily identify the exact width of each screen on each device, and thus accurately determine the space available for the page to be displayed. In this way, all spaces are always used in the best way.
Not to mention that responsive pages also have the ability to adjust all dimensions, including images, fonts, and all the elements that make up the page. All this so that it does not become disproportionate or distorted.
In short, a responsive website is one whose layout adjusts perfectly to any resolution in a completely harmonious way, providing the visiting user with a great browsing and reading experience. Regardless of which device or device is being used for access.
Find out how important it is for you to have one:
For you to have a website with a nice look and very friendly for all types of devices, especially mobile ones, then know right away that everything starts with the layout, which obviously has to be responsive.
So whatever the type of website, being responsive, it will be able to respond quickly when accessed by users and visitors. It should work very well, and look attractive no matter what type of device is being used to access it. Check out some important advantages of why you should have responsive pages:
Easy management and savings:
A site optimized for all devices, especially mobile ones, is much easier to manage, as all the updates you make will then appear on any and all types of devices.
Regardless of whether the user is accessing it from a PC, tablet, smartphone or notebook, the content is exactly the same. Not to mention that the cost of a responsive website is much lower. Because you don't have the need to make different projects for each type of device.
Much better SEO:
All websites that have the responsive layout use the same HTML code and also the same URL always, regardless of which device it is being accessed.
Know that this configuration helps by allowing the Google robot to index, explore and manage all the content on your pages in a much simpler and more efficient way.
And as a result, your content will be much better ranked in organic search results, so responsiveness will contribute a lot to your Seo.
Why does your website have to be responsive?
With the emergence of mobile devices such as smartphones, tablets, notebooks, nowadays it is quite common for people to have much more preference in accessing the internet using their own mobile devices. Because with them you can simply access everything, and from anywhere in the world, and at any time, day or night.
So our recommendation is that you make a responsive website, as approximately 70% of all traffic on the entire web comes mainly from smartphones. And that will only grow your audience even more.
Not to mention that approximately 51% of consumers say they use their mobile devices to also research new products and brands.
Surely these numbers clearly show that making a page responsive to mobile devices is an excellent way to expand your online business. Taking it to another level. And we can't forget to mention that 89% of people who have a positive experience on a mobile optimized page tend to recommend it to others.
We also have another very important point to be mentioned in this topic, recently in one of its algorithm updates, Google made an update that if by chance your pages do not meet the requirements to appear on mobile devices, they can simply be removed from the results of searches. So, will you want to stay out of the searches?
How to make a website responsive?
First of all, it's good that you understand that to make websites responsive and friendly for all types of mobile devices, you will require some specific technical knowledge.
So our tip is, if you have this great knowledge, if not, we recommend you hire a web developer to do this task for you. You can find them on freelancing platforms. And now let's get to what really matters, which are our tips, follow:
Prioritize mobile:
Generally, when the vast majority starts creating a website, they usually start developing thinking about devices with larger screen sizes, such as a desktop or a notebook.
Not that this is wrong, but in the end when you need to optimize for mobile then you may have some problems. For this reason, always optimize thinking about users who use mobile devices and devices.
And the best way for you to be able to do this task is logically starting with a mobile layout, start by creating and making it very functional for mobile users. Because to get to the big screens afterwards is going to be much easier.
Know that optimizing from the smallest screen to the largest is much more complicated, so be smart and save time starting from small screens like smartphones, until you reach the largest ones, like desktops.
Responsive Theme:
Using a responsive theme will only help you, as it will practically already make the page very friendly for all devices, including mobile ones. It will show all similar content from desktop on mobile perfectly.
Nowadays there are many templates available, especially if you are a WordPress CMS user. Know that many of them are free and fully available. And many have excellent performance.
Our tip for you here is, whenever you want to check if a theme is really responsive and has a great loading time use the ToolsPingdom. This excellent tool will provide you with important information about its loading speed and much more.
Convert from desktop to mobile:
If you already have a website especially for desktop computers, which in turn is also fully functional, it's just not yet optimized for use on mobile devices. So what you need to do is convert it to a mobile version.
And lucky for you, there are some ways to do this, which is by hiring an online service, or if you are a CMS user, you can do it via plugins.
So you can do the conversion from the desktop version to the mobile version using 2 excellent online services, obviously paid, but both excellent. What are they:
They offer features to make any online project fully optimized and responsive for all mobile devices out there. And if you are a user of CMS like WordPress, Joomla and Drupal for example, then you can convert your desktop version to the mobile version using plugins.
If it is done in Joomla, use the JoomlaShine and the responsive. If your CMS is WordPress use the plugins jetpack It is WPtouch. And if you are using Drupal then use the plugins MobileTheme or the ThemeKey.
Speed:
We don't know if you know this, but the speed it depends a lot on the type of hosting you are using, for this reason our recommendation is always to choose a high quality server. And that it is reliable and very fast.
Always try to optimize your home page as much as possible, remove items that are unnecessary, such as icons or widgets, and even try to reduce the amount of posts shown on your home page. so she will load much fasterO.
Delete plugins that are inactive and unnecessary, and keep your site as organized as possible. And also use a CDN to distribute your content faster.
Do not use flash:
Never use flash in your projects, in addition to using hardware resources, it has a much slower response from your pages and its loading time. Not to mention that the use of flash will negatively affect SEO, and of course this is not what you want.
And flash also presents another problem, iOS and Android systems do not support it, so forget about this software if you intend to have responsive pages.
AMP (Accelerated Mobile Pages):
AMP (Accelerated Mobile Pages) or Accelerated Mobile Pages is a project by Google itself that aims to improve the loading time speed, when using compressed data. All this to get mobile pages reduced in size by up to 8x.
The developers responsible for this innovation claim that it has the ability to accelerate the speed of a page by up to 4x. So it will be much more responsive and optimized for mobile devices in general.
AMP's fast loading is its main advantage, as this will improve its visibility in search results, further improving its organic traffic. Which is very valuable.
Google's search engine will always show sites that have AMP in search results along with a lightning bolt symbol ??. This helps the user to differentiate between those who use AMP and those who don't.
Appearance:
Never leave the appearance aside, because the content has the power to attract, know that it is the appearance that will make the visitor stay for more than 15 seconds. Those 15 seconds are crucial for users to decide whether to stay or leave. Optimized pages have a lower bounce rate, and are also ranked higher by Google.
So always pass a positive image right away to your visitors. Be careful with forms on your page, generally filling out forms on mobile is complicated. Always try to use fonts with large sizes, making them super friendly for mobile devices. Use Google's responsiveness test tool, and do a check-up to see how your mobile optimization is going.
Quick conclusion:
Now knowing what a responsive website is, its importance and how to go about having one, we believe that you have no more doubts that often, in order to achieve higher flights on the internet, adapting is necessary.
Considering the huge amount of existing mobile users, and which will not stop growing, it would be smart of you to put all our mobile optimization tips into practice.
Leaving a site optimized for all devices, especially mobile ones, can take some work, but believe me, it won't be a waste of time. Never. Quite the contrary, by applying these tips, over time the tendency is to improve more and more, and it will certainly start to attract many more visits, increasing your organic traffic.
So that's it, we're done here, we wish you good luck. We hope this content has helped you in some way. Big hug and much success